The Australian Air League is a youth organisation for boys and girls aged from 8 years which encourages an interest in aviation as a career or as a hobby for the youth of Australia.The organisation is entirely self-funding and is staffed by volunteers who give their time generously to achieve its goals. The Australian Air League has no political, racial or religious connections.
The aims and objectives of the Australian Air League include:
To promote and encourage the development of Aviation in the Youth of Australia
To promote good citizenship
To promote ingenuity and resourcefulness of its members
To develop the physical and mental abilities of its members
The League's motto "A Vinculo Terrae" translates into "Free from the bonds of the Earth". This motto contains the very essence of flight into space.
The Australian Air League was formed in 1934, in an era when Australian Aviators such as Sir Charles Kingsford-Smith, Charles Ulm, Bert Hinkler, Sir Ross and Keith Smith and others were household names and heroes. The first Squadron was opened in Manly (NSW) and the Air League quickly spread throughout that state. In early 1939 the first Squadron was opened in Victoria and in 1944 the first Girls Section was formed. Today the Australian Air League is active in NSW, the  ACT, Victoria, Queensland, South Australia and is still expanding.
Who can join?
Girls and Boys from the age of 8 years through to 18, are eligible to join a Squadron as a cadet and participate in the weekly meetings and regular activities. On reaching the age of 18 many cadets choose to remain in the organisation as Officers or Instructors, with some members having life-long associations with the Air League.
Adults who have a passion for aviation, care about the welfare of our youth and would like to contribute to Australian society can join the Air League as Warrant Officers. Under the guidance of a structured training programs, adults can progress through the organisation and gain confidence, knowledge and skills. Aviation experience is not necessary  as training is available. During training, members learn the basic requirements to become an Officer and a member of the Air League, and get to know other members and their positions within the Australian Air League.
Parents and supporters who would like to be involved but don't have time to be attend regular Squadron activities can also join as Associate Members.
What do Air League members do?
Members of the Australian Air League attend Squadron parade nights once a week for approximately two hours, where they take part in a variety of interesting activities. These include ceremonial drill, physical training, model aircraft building, and aviation theory classes, such as Navigation and Aircraft Engines. Training in First Aid, Life Saving, camp craft and a variety of other interesting subjects are also available.
In addition to weekly Squadron parade nights there are several Parades and Reviews conducted in each State during the course of the year and nationally every two years. Several squadrons also have marching bands that compete keenly in competition, as well as take part in community events and special occasions such as ANZAC Day Parades.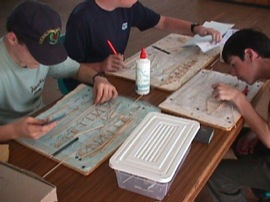 Competition between Squadrons is very keen and to encourage this competitive spirit, a number of competition days are held each year. These include drill competitions as well as athletic and swimming carnivals at a Group level and inter-Squadron sport days at Wing level.
There are also social functions held by Squadrons and Wings including picnics and outings, hikes and fund-raising activities. In addition members are encouraged to take part in public activities such as helping in community projects, assisting in ANZAC Day and other local community parades and festivals.
Structure of the Air League
Cadets are formed into Squadrons which take the name of their town or city or in some cases, region. Two or more Squadrons located in the same geographic region form a Wing, which carries the name of a famous Australian Aviator or of that region.
A Group is the controlling State body and administers all Wings and Squadrons in their state.
The term Federal is used to describe the organisation at a national level. The Council of the Australian Air League oversees the functioning of the League and is responsible for setting policy and administering the rules of the organisation.
A Squadron consists of an Officer Commanding and other Officers who hold various ranks and selected appointments such as Drill, Education, and Physical Activities, Non-Commissioned Officers (N.C.O.'s) and Cadets.
Leadership and Discipline
Leadership training and discipline is an important aspect of our training and successful members can qualify for Non Commissioned Officer or Officer rank depending on their age and ability.
Cadets that show initiative and leadership skills can gain promotion as Non-Commissioned Officer's (NCOs) following stringent training and examinations. Upon qualification and examination they become a Leading Cadet, then progress through the ranks, possibly even to Squadron Sergeant, the highest NCO rank in the Air League. Upon reaching adulthood, Cadets then can become Warrant Officers and undergo Officer Training.
Flying
Air Activities are encouraged throughout the Air League and flying, both powered and gliding, is an important part of the training syllabus. The Air League operates a very successful Air Activities Centre at Camden Aerodrome, NSW which is fully staffed by volunteers mainly from the Aviation Industry who are dedicated to providing our young people flying at the cheapest rates available. In other states air activities are conducted in association with local flying training organisations who assist the Air League to provide air experience flights and flying training at competitive prices. Gliding is conducted  through association with local gliding clubs and the Gliding Federation of Australia, and training and glider experience flights is available to all members.
In addition to flying training, the Air League holda regular air activity flying days where Squadron members are taken for joy flights and are introduced to aviation. Many Cadets have experienced their first flight at one of these days.
 Australian Air League
Aviation is a dynamic industry and the Australian Air League, sometimes called the Primary School of Aviation, is proud of the role that it has played for over 70 years in promoting aviation to young Australians and helping to make them better members of our society.